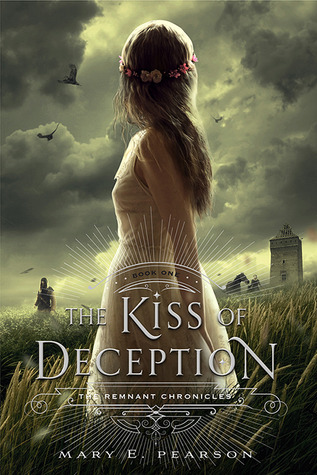 In this timeless new trilogy about love and sacrifice, a princess must find her place in a reborn world.

In a society steeped in tradition, Princess Lia's life follows a preordained course. As First Daughter, she is expected to have the revered gift of sight—but she doesn't—and she knows her parents are perpetrating a sham when they arrange her marriage to secure an alliance with a neighboring kingdom—to a prince she has never met.

On the morning of her wedding, Lia flees to a distant village. She settles into a new life, hopeful when two mysterious and handsome strangers arrive—and unaware that one is the jilted prince and the other an assasin sent to kill her. Deception abounds, and Lia finds herself on the brink of unlocking perilous secrets—even as she finds herself falling in love.
I decided to check out The Kiss of Deception by Mary E. Pearson after hearing that this book was the next best historical fantasy series and after also hearing a few comparisons to The Winner's Curse, which has been my absolute favorite read of 2014 so far. So obviously, I had to give it a chance!
Unfortunately, it ended up not really being my cup of tea. This is such a hard review to do because I'm 100% positive that this book is going to have A TON of fans and that people are going to fall in love with Lia and her story. But I wasn't one of those people, sadly. I ended up DNF-ing about halfway through, which I hated to do because I could tell it was an awesome story, but there were too many things that bothered me.
I guess for me, the biggest problem that I had was with the main character herself, Lia. She's a princess and as is expected of her, she's betrothed to the prince of a neighboring country in order to ensure safety and security for her kingdom (and her loved ones). However, Lia has apparently had enough of living a stifled life, so she decides to leave the prince at the altar and make a run for it with her maid servant to live amongst the commoners. This is hard for me because as a girl living in 2014, I can of course look at Lia's situation and think, Oh my god, an arranged marriage sounds absolutely awful, I totally get why she ran away. But then thing is…this book ISN'T set in the 21st century. This is in a medieval time when this is a normal thing??? And Lia is the key to securing safety for her people and her family, but she basically just says "eff it!" and runs off in search of a simple life and true love, where she mouths off to random strangers and doesn't give too much of a crap for how her family is dealing with the aftermath (even her brothers, who she claims to love SO much). I'm going to be honest, it disgusted me a little bit how selfish she was and I had a really hard time empathizing with her when it all blew up in her face. I was just kind of like…how did you not see this coming?
The second issue that I had was the romance. When Lia makes a run for it, two people come after her: the jilted prince she was supposed to marry, and an assassin from a neighboring kingdom ordered to kill her. She naturally goes for one of the guys, and I'm not going to say who but if you've read any YA I'm sure you can guess. And I was cool with her choice cause I was kind of digging that guy too, until he basically just loses his head after ONE encounter with her and turns into a sensitive pile of mush. WHICH IS FINE. Except it was totally out of character for this guy and happened waaaay too fast. And from there on, a huge chunk of the book was devoted to her romances with these two guys and not a whole lot else, other than her cheerily slaving away over peasant tasks. The guys were basically obsessed with her and seemed to pop up at literally EVERY opportunity to help her or save her or shoot her brooding looks. They were desperate, basically. And to be honest that's not really my thing…I prefer a nice, slow build, personally.
HOWEVER, the writing was absolutely beautiful. As much as I wasn't a fan of the story, I could definitely appreciate how gorgeous of a writer Mary Pearson is, oh my goodness. The scenes were perfectly described and I felt every character's emotion so vividly. She is incredible and definitely someone to look out for. Even though I didn't like this book, I'm 100% open to trying a future book.
All in all, I think a lot of people will like this book. If you're a little (okay, a lot) cynical like me and not into cheesy romance/love triangles, then maybe you won't. But I don't think Mary Pearson has to worry cause I'm going to guess most people will eat this up. Definitely check it out!
Pages: 492
Date Published: July 15, 2014
Publisher: Henry Holt
Rating: DNF