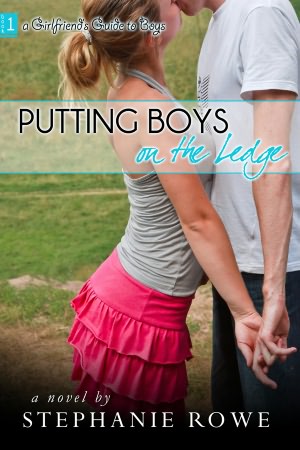 Meet Blueberry Waller, whose name is the only interesting thing about her life. Until now.
Not only is Blue dealing with the worst name in the world, crazy parents and a clingy younger sister, she just got a part in the school play. And now she's acting with Heath Cavendish, total crush-worthy senior. He would never give a second look to a girl like Blue. Except he has.
Her friends say Blue should play it cool, put Heath on the Ledge so she can keep the upper hand. Trouble is, she doesn't know how to be clever around boys. Thankfully her pal Colin offers his help in teaching her how to get the guy. But he's just being a good friend. Isn't he?
Suddenly the wallflower is getting all the attention. But will being in the spotlight keep Blue from making the right decisions…for her?
Despite Blueberry's unique name, she's actually pretty average. She's convinced she's the ordinary member of her group of friends: mousy brown hair, small stature, and a considerable lack of cleavage. But freshman year is the year she's determined to put a boy on The Ledge — a place where boys are so enamored with you that their willing to do anything, even metaphorically jump of a ledge. The only thing is, putting a boy on The Ledge sounds kind of mean to Blue. And Heath Cavendish is so nice and adorable; does he deserve The Ledge?
Putting Boys on the Ledge is a light, quick, fluffy read. The characters are all kind of underdeveloped stock characters. A group of best friends including the studious one, the flirty one, and the forgettable one. The hot crush and the boy who's just a "friend." Overprotective parents, hyper younger sister, and an often absent football-playing brother. We've all read this story before, right?
So this is a pretty predictable read. That being said, I like Blue as a character, though she's not my favorite narrator. Her inner monologue is rather stereotypical and cliche. But her actions set her apart from other characters, especially in regards to how she deals with Heath. She's a lot more feisty than I expected; she has this inner strength and the tenacity to stick up for herself. While sometimes she doubts herself, she never doubts the difference between right and wrong. I like that she always sticks to her morals and doesn't let others intimidate her into backing down.
I didn't expect to care about the relationships in this book, but by the end, I did find myself smiling. Colin is such a cute guy, though also woefully underdeveloped. The author seems to believe that since Blue is capable of having a few non-awkward conversations with Colin that the two are now best friends. But they're not. They still barely know each other by the end of the book. I definitely would have loved to see their friendship expanded upon.
There are a few stand-out lines in the book that really made me laugh. Besides those, Putting Boys on the Ledge isn't anything we haven't seen before. If you're looking for a quick, light, contemporary romance, you might want to give it a try. Blue's first kiss will definitely make you swoon.
Pages: 102
Publication Date : October 2011
Publisher: TKA Distribution
Format: Review Copy
Rating  [rating: 2.5]

Teaser Quote: "His voice was like warm caramel melting through my body, making my legs wobble. I think the whole assembly hall became quiet. And when I looked on the stage, he was perfect. Beautiful."